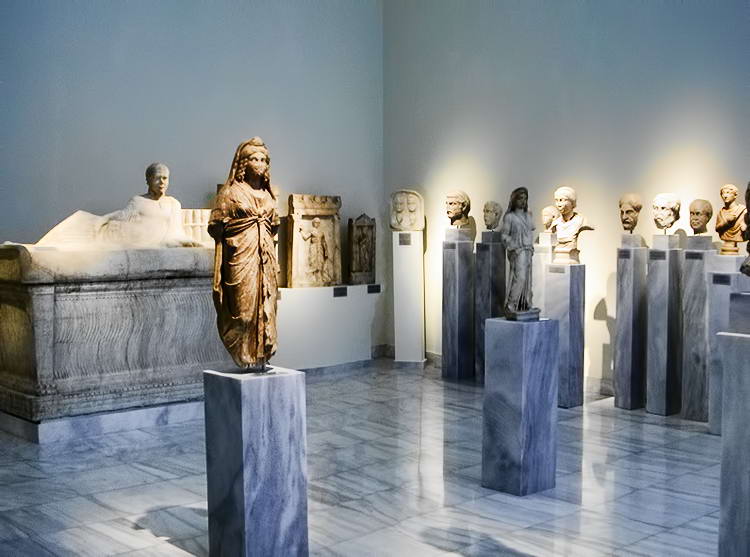 ---
Description
The National Archaeological Museum is the largest museum in Greece and one of the world's great museums. Although its original purpose was to secure all the finds from the nineteenth century excavations in and around Athens, it gradually became the central National Archaeological Museum and was enriched with finds from all over Greece. Its abundant collections, with more than 11,000 exhibits, provide a panorama of Greek civilization from the beginnings of Prehistory to Late Antiquity.
The museum is housed in an imposing neoclassical building of the end of the nineteenth century, which was designed by L. Lange and remodelled by Ernst Ziller. The vast exhibition space - numerous galleries on each floor accounting for a total of 8,000 square metres - house five large permanent collections:
The Prehistoric Collection, which includes works of the great civilizations that developped in the Aegean from the sixth millennium BC to 1050 BC (Neolithic, Cycladic, Mycenaean), and finds from the prehistoric settlement at Thera.
The Sculptures Collection, which shows the development of ancient Greek sculpture from the seventh to the fifth centuries BC with unique masterpieces.
The Vase and Minor Objects Collection, which contains representative works of ancient Greek pottery from the eleventh century BC to the Roman period and includes the Stathatos Collection, a corpus of minor objects of all periods.
The Metallurgy Collection, with many fundamental statues, figurines and minor objects.
And, finally, the only Egyptian and Near Eastern Antiquities Collection in Greece, with works dating from the pre-dynastic period (5000 BC) to the Roman conquest.
The museum possesses a rich photographic archive and a library with many rare publications, the latter of which is constantly enriched to meet the needs of the research staff. There are also modern conservation laboratories for metal, pottery, stone and organic materials, a cast workshop, a photographic laboratory and a chemistry laboratory. The museum has temporary exhibition spaces, a lecture hall for archaeological lectures and one of the largest shops of the Archaeological Receipts Fund.
E-Book
Opening hours: Monday: 13:30-20:00
Tuesday-Sunday: 08:30-15:00
The National Archaeological Museum is closed on 25 - 26 December, 1 January, 25 March, Orthodox Easter Sunday and 1 May.
Admission fee: 7 euros
Reduced fee: 3 euros for E.U. senior citizens (over 65 years old), students from countries outside the E.U.
Published: 1 Jun. 2010
---
Where to stay
accommodations located nearby
---
More Holiday Ideas
what else you can see here around